Aleph-1 is a constellation of small ÑuSat microsatellites with dimensions of 43 x 45 x 75 cm and a weight of 37 kg, managed by the Argentine company Satellogic S.A. (Buenos Aires). Its partner is European Space Imaging specializing in Earth observation and having its own component of the ground receiving station. To date, 22 ÑuSats satellites have been successfully delivered into orbit, ensuring frequent return visits and daily image acquisition over vast areas. The ÑuSat satellites are in a LEO, Sun Synchronous Orbit with a 97.5 degree inclination. The first satellites of the Aleph-1 constellation were launched in 2016.
The Satellogic fleet of satellites provides multispectral images with a sub-meter ground resolution of 99 cm GSD (70 cm GSD for "SuperResolution") and 25 m GSD for hyperspectral (HS) imaging. The multispectral (MS) sensor has 4 recording channels (RGB + NIR), while the hyperspectral (HS) sensor has as many as 29 recording channels (in the spectral range 460 – 830 nm). In addition, the ÑuSat satellites are equipped with a thermal sensor that records images in a 92 km wide observation band in the spectral range of 8-14 µm, ensuring a terrain resolution of 90 m GSD. The resolution of the temperature measurement is 0.01 Kelvin. Images from MS and HS sensors are processed for radiometric and geometric correction (appropriate levels of processing).
The Aleph-1 constellation is the perfect balance of frequency and data quality while maintaining a cost competitive value for the user. The data can be applied in large scale mapping with a rapid response, maritime monitoring, daily change detection, precision farming and/or mineral exploration, railroad and utilities monitoring.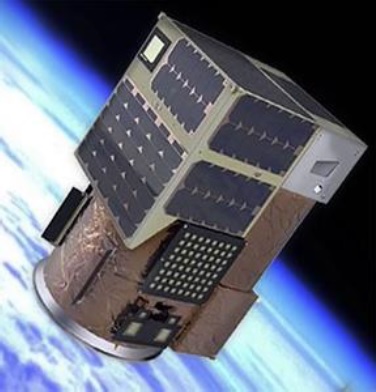 Multispectral images: 0.99 m GSD
Multispectral images ("SuperResolution"): 0.7 m GSD
Hyperspectral images: 25.0 m GSD
| | | |
| --- | --- | --- |
| | Multispectral | Hyperspectral |
| Band 1 | Blue: 450-510 nm | 462 nm (FWHM) |
| Band 2 | Green: 510-580 nm | 475 nm (FWHM) |
| Band 3 | Red: 590-690 nm | 488 nm (FWHM) |
| Band 4 | Near-IR: 750-900 nm | 502 nm (FWHM) |
| Band 5 | - | 516 nm (FWHM) |
| Band 6 | - | 529 nm (FWHM) |
| Band 7 | - | 550 nm (FWHM) |
| Band 8 | - | 569 nm (FWHM) |
| Band 9 | - | 582 nm (FWHM) |
| Band 10 | - | 595 nm (FWHM) |
| Band 11 | - | 608 nm (FWHM) |
| Band 12 | - | 616 nm (FWHM) |
| Band 13 | - | 670 nm (FWHM) |
| Band 14 | - | 680 nm (FWHM) |
| Band 15 | - | 689 nm (FWHM) |
| Band 16 | - | 701 nm (FWHM) |
| Band 17 | - | 710 nm (FWHM) |
| Band 18 | - | 720 nm (FWHM) |
| Band 19 | - | 730 nm (FWHM) |
| Band 20 | - | 740 nm (FWHM) |
| Band 21 | - | 750 nm (FWHM) |
| Band 22 | - | 760 nm (FWHM) |
| Band 23 | - | 770 nm (FWHM) |
| Band 24 | - | 781 nm (FWHM) |
| Band 25 | - | 790 nm (FWHM) |
| Band 26 | - | 800 nm (FWHM) |
| Band 27 | - | 810 nm (FWHM) |
| Band 28 | - | 821 nm (FWHM) |
| Band 29 | - | 827 nm (FWHM) |
Multispectral images: 5 km
Hyperspectral images: 125 km